By DENISE BONURA / Managing Editor
Apr 14, 2022 Shippensburg News-Chronicle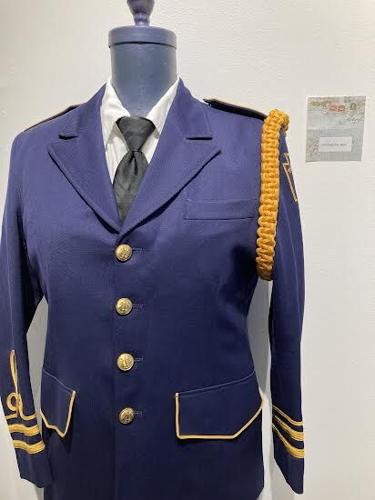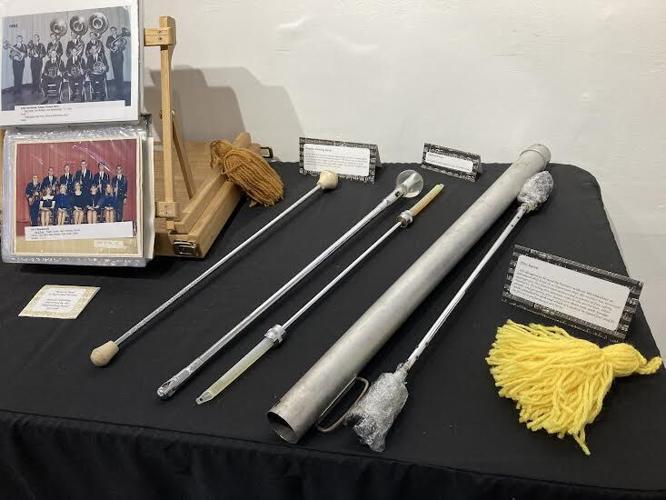 Area musicians have kept the beat for live audiences over the last 100 years. 
The Shippensburg Band is celebrating its centennial anniversary, and SHAPE Gallery in downtown Shippensburg hosted an opening ceremony for a pop-up gallery that celebrates the rich history of the Town Band, along with the Shippensburg Swing Band and the Blaskapelle Shippensburg German Band.
Musicians from Shippensburg, Newville and surrounding areas perform a number of concerts throughout the year to keep the tradition alive, all on a volunteer basis.
Barb Fisher of the Centennial Committee was among Friday's attendees.
"It's kind of exciting to be part of a group that's been around for 100 years. I've been involved with the band for 30 years," Fisher said. "I play the clarinet. Once my kids were grown, my cousin and I decided it was time to join the band. My aunt, uncle and another cousin were already in the band. We both played in the band in high school."
Fisher has been compiling a timeline of the band for many months in preparation of the anniversary. Other spots in Shippensburg that have displays dedicated to the band include the Shippensburg Historical Society and the Coy Public Library, along with a window display at Dance Academy XIV on King Street.
"All of the old stuff was very interesting to me. At one time, we had a group of bands in the area – the Scotland School band, a military band and the Shippensburg Band," Fisher noted. "We have also had generations of families performing together. We currently have husbands and wives, a mother, father and son, daughter, father and son, father and daughter, mother and son, brothers, brother and sister, father and 2 sons, and a brother and sister in the band."
Fisher said the band is always looking for new members from the community, and players do not have to have a ton of experience. She is also hoping more members of the community will attend the free concerts the band performs. The band, at one time, boasted an audience of 300. During some recent performances, she noted there have been more members of the band than in the audience.
However, they all enjoy playing regardless of who attends. They would just like to play for more people.
"I enjoy music and being a part of something that provides music for other people is important to me," she said.
The Town Band will perform a 100th anniversary concert at 2:30 p.m. Sunday, May 1, in the Shippensburg Church of the Brethren, 253 E. Garfield St., Shippensburg. Admission and parking are free; donations will be accepted (the Shippensburg Band is a nonprofit organization). The band is currently directed by Carl Sponenberg.
Diana Nazario, SHAPE volunteer coordinator, said, "I think it's pretty cool that it's celebrating 100 years. It's a great exhibit, and the music has been phenomenal!"
"It's been a pleasure to host the band. We are excited to celebrate their 100th anniversary. They have been generous with their time, and are having such a wonderful opening night," Amelia Ambrose, SHAPE events coordinator, said. "We are excited to partner with other groups in the community, and are always open to host these types of milestones. Email your information to info@shapeart.org."
Barbara Miller and her sister, Alice Armstrong, have followed the Shippensburg Swing Band for many years. They also attended Friday's opening.
"We just loved it!" Alice said. "We follow the band everywhere it goes; we've been doing it for a long time."
Miller said she was from Newville, and her grandson used to play the saxophone in the band.
"I think we've been following the band for at least 30 to 40 years," Miller said. "I love this kind of music, and they always have a great singer. I'm glad it's still around, and I think it's great that people still support them."
Vicki Baker, who leads the jazz band and also plays the trombone in the town band, said she has been with the Town Band since the 1980s, and the Swing Band since it started more than 20 years ago.
Baker, who taught music at Big Spring from 1975 to 2008, said they are excited to be playing in public again, since the pandemic postponed or canceled many of their performances.
"Music brings everybody together; no matter what style. People have a commonality with music," Baker said.
Peg Crouse, who taught at Big Spring for 30 years, attended Friday's opening to support Baker and the band.
"I think it was wonderful!" she said of the exhibit. "I didn't know what to expect. I walked in and saw all this and thought it was really well done! Vicki is a great band director, and I just like the music."
Mary Breneman has played the trombone for the Town Band since the 1980s. She also performs with the Swing Band.
"I just love music; I consider it therapy," she said of her decision to join the band.
Breneman said the following regarding the band's 100th anniversary: "It just shows that there are a lot of people in the community that enjoy music. We are all volunteer. You don't see that often. They do it for the pure enjoyment of music."
She added she feels it is very important to keep live music going in the community.
"Too many things these days are digital," she said. "Music has a whole new dimension when it's live, both for the players and the audience."
The SHAPE Shippensburg Band exhibit will remain open at 19 E. King St., Shippensburg, through April 22. SHAPE Gallery is open from 5 to 8 p.m. Wednesdays through Fridays, and 10 a.m. to 4 p.m. Saturdays. SHAPE Gallery's openings and exhibits are always free and open to the public.
Editor's Note: Don't miss next week's News-Chronicle Weekend Edition for more history on the band, and more reflections from band members.